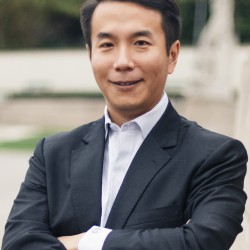 Zongqi Xia, MD, PhD
Associate Professor of Neurology, Biomedical Informatics, Bioengineering, Clinical and Translational Science, University of Pittsburgh School of Medicine

Director of Research, Division of Neuroimmunology, Department of Neurology, University of Pittsburgh School of Medicine

Principal Investigator, Pittsburgh Institute of Neurodegenerative Diseases & Institute of Multiple Sclerosis Research and Care, University of Pittsburgh

Director, Translational and Computational Neuroimmunology Research Program, University of Pittsburgh

Director, Clinical Neuroimmunology / Multiple Sclerosis Training Program, University of Pittsburgh Medical Center

E-mail
Interests
The Program of Translational and Computational Neuroimmunology addresses the unmet medical needs in the field of clinical neuroimmunology. Through multi-disciplinary collaborative efforts, we aim to bring precision medicine to multiple sclerosis (MS) and related neuroinflammatory disorders.
Currently, there are three ongoing research initiatives.
Research Focus 1. Risk Prediction and Prevention in Multiple Sclerosis.
Investigating the risk factors of MS and mapping the sequence of events leading to the onset of disease will pave the way to ultimately test primary prevention strategies in high-risk individuals.
Research Focus 2. Precision Medicine for Multiple Sclerosis.
Insights into the factors that influence the variable treatment response and the diverse trajectories of disease progression in MS will be the key to provide individually tailored therapy.
Research Focus 3. Real-World Evidence and Informatics for Clinical Discovery.
Tools that leverage real world clinical data such as electronic health records for outcome prediction in chronic neurological disorders have the potential for widespread dissemination at the point of care.
For these initiatives, we harness multi-modal patient-derived data and deploy integrative quantitative science approaches to gain insights into the underlying disease process and translate these findings into the clinical arena to improve individualized risk prediction, prevention, and management in multiple sclerosis and other related disorders of neuroinflammation and neurodegeneration.
We seek highly motivated individuals to join our team:
1. Clinical research assistant
2. Laboratory research scientist
3. Staff data scientist
4. Post-doctoral fellow: data science, physician-scientist
Training
| | | | |
| --- | --- | --- | --- |
| BA | Biology | Swarthmore College | 1997 |
| PhD | Neuroscience | Case Western Reserve University | 2003 |
| MD | Medicine | Case Western Reserve University | 2005 |
| Internship | Internal Medicine | University Hospitals of Cleveland | 2005-2006 |
| Residency | Neurology | Brigham and Women's Hospital & Massachusetts General Hospital | 2006-2009 |
| Post-doc | Translational Neuroimmunology and Genomics | Brigham and Women's Hospital | 2009-2013 |
| M.M.Sc | Clinical Investigation | Harvard Medical School | 2011-2013 |
Positions Held
| | | |
| --- | --- | --- |
| Visiting Scientist | Broad Institute | 2009- |
| Instructor | Harvard Medical School | 2010-2013 |
| Assistant Professor | Harvard Medical School | 2013-2015 |
| Lecturer | Harvard Medical School | 2016- |
| Collaborator Scientist | Brigham and Women's Hospital | 2016- |
| Assistant Professor | University of Pittsburgh | 2016-2021 |
| Associate Professor | University of Pittsburgh | 2021- |
Honors and awards
1993-1994 Merit Award (City of Philadelphia)
1993-1997 Senator Robert C. Byrd Honors Scholarship
1997-2005 National Research Service Award (Medical Scientist Training Program at Case Western Reserve University)
2003 Dean's Prize for MD/PhD Candidate (Case Western Reserve University)
2005 Benjamin Kean Traveling Fellowship (American Society for Tropical Medicine and Hygiene)
2005 Frederick C. Robbins MD Travel Fellowship (Case Center for Global Health and Diseases)
2005 Neurology Department Graduation Award (Case Western Reserve University)
2009 Board certification (American Board of Psychiatry and Neurology)
2009-2010 National Research Service Award (Harvard Medical School Autoimmunity Training Program)
2010-2013 Clinician Scientist Development Award (National Multiple Sclerosis Society and American Academy of Neurology)
2016 European Committee for Treatment and Research in Multiple Sclerosis, 32nd Congress (London, UK), Best Poster Award
2017 Americas Committee for Treatment and Research in Multiple Sclerosis Forum, 2nd Annual Meeting, Young Investigator Award
Selected Publications
https://scholar.google.com/citations?hl=en&user=Buxp9TkAAAAJ&view_op=list_works&sortby=pubdate

More publications