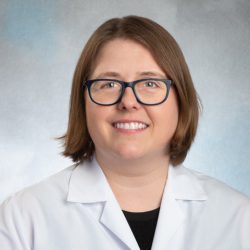 Abby Lauren Olsen, MD, PhD
Assistant Professor of Neurology
E-mail
Interests
In the Olsen lab, we work to understand how genes and environmental factors contribute to the pathogenesis of Parkinson's disease and other related disorders. The long-term goal of the lab is to use this knowledge to develop new therapies. We use several model systems, including Drosophila (fruit flies), mouse models, cell culture models, and human genetic datasets. The lab is actively recruiting students, technicians, and post-doctoral fellows. There are two major areas of focus and several available projects within these areas:
1) Defining the genetic contribution of glia to Parkinson's disease (PD) and dementia with Lewy bodies (DLB)
Glia constitute half of all cells in the human brain, yet their role in PD and DLB is not well understood. We use Drosophila to do high throughput screening to identify glial genes that contribute to PD/DLB pathology. We then determine the mechanism of these genes in mammalian models of PD/DLB. Using this approach, we have identified a glial role for known PD risk genes, such as LRRK2, and we have also identified multiple novel genes.
2) Understanding gene-environment interactions in PD
Genetic and environmental risk factors interact to influence risk of PD. We have developed models for identifying gene-environment interaction and are undertaking mechanistic studies of one specific gene-environment interaction: nicotine and SV2C. We have determined that nicotine can rescue alpha-synuclein toxicity and that this requires intact SV2C expression. Further, we have identified a role for this interaction in regulating proteostasis and autophagy.
Training
| | | | |
| --- | --- | --- | --- |
| BA | Women's and Gender Studies | Carleton College | 2003 |
| PhD | Cell and Molecular Biology | University of Pennsylvania | 2011 |
| MD | Medicine | University of Pennsylvania | 2013 |
| Internship | Internal Medicine | Pennsylvania Hospital | 2014 |
| Residency | Neurology | Partners Healthcare | 2017 |
| Fellowship | Movement Disorders | Mass General Brigham | 2019 |
Positions Held
| | | |
| --- | --- | --- |
| Instructor | Harvard Medical School | 2019-2022 |
| Associate Neurologist | Brigham and Women's Hospital | 2019-2022 |
| Associate Neurologist | Brigham and Women's Faulkner Hospital | 2019-2022 |
| Assistant Professor | University of Pittsburgh | 2022- |
Honors and awards
2001 Life Sciences Summer Undergraduate Program Research Scholar
2003 Scott Tyler Bergner Prize
2003 Phi Beta Kappa
2007 First Place Poster, University of Pennsylvania Medical Student Research Day
2008 NIH F30 NRSA Award
2010 First Place Talk, Biomedical Graduate Student Research Symposium
2011 First Place Poster, Center for Molecular Studies in Digestive and Liver Disease Symposium
2011 Edward Raffensberger Prize
2013 Eric Corey Raps Memorial Prize
2013 Platform presentation, American Neurological Association Annual Meeting
2014 Nominated for Intern of the Year
2016 Chief Resident
2016 NINDS R25 Award
2016, 2017 First place poster, Stanley Cobb Assembly of the Boston Society for Neurology and Psychiatry
2017 American Academy of Neurology Enhanced Resident Leadership Program
2018 Department of Defense, Parkinson's Disease Early Investigator Award
2018 NINDS K08 awardee
2018, 2021 Platform presentation, American Academy of Neurology Annual Meeting
2018 Top Poster, American Neurological Association Annual Meeting
2018, 2019 Travel Award, American Neurological Association
2018, 2020 NIH Loan Repayment Award
2020 George C. Cotzias Memorial Fellowship, American Parkinson's Disease Association
2020 Travel Award, Parkinson's Study Group Meeting
2020 Emerging Scholar presentation, American Neurological Association Annual Meeting
2021 Poster highlight tour, American Neurological Association Annual Meeting
2021 Massachusetts Alzheimer Disease Research Association Award
Selected Publications
1. Sarkar S, Olsen AL, Sygnecka K, Lohr K, Feany MB. α-synuclein impairs autophagosome maturation through abnormal actin stabilization. PLoS Genetics. 2021. 17(2):e1009359.
2. Sarkar S, Bardai F, Olsen AL, Lohr KM, Feany MB. Oligomerization of Lrrk controls actin severing and alpha-synuclein neurotoxicity in vivo. Molecular Neurodegeneration. 2021. 16(1):33.
3. Olsen AL and Feany MB. Parkinson's disease risk genes act in glia to control neuronal α-synuclein toxicity. Neurobiology of Disease. 2021.159:105482.
4. Hagemann TL, Powers B, Lin N-H, Mohamed AF, Dague KL, Hannah SC, Bachmann G, Mazur C, Rigo F, Olsen AL, Feany MB, Perng M-D, Berman RF, Messing A. Antisense therapy in a rat model of Alexander disease reverses GFAP pathology, white matter deficits, and motor impairment. Science Translational Medicine. 2021. In press.
5. Vaswani P and Olsen AL. Immunotherapy in progressive supranuclear palsy. Current Opinion in Neurology. 2020. 33(4):527-533.
6. Sarkar S, Dammer EB, Malovic E, Olsen AL, Raza SA, Gao T, Xiao H, Oliver DL, Duong DM, Joers V, Seyfried NT, Huang M, Kukar T, Tansey MG, Kanthasamy A, Rangaraiu S. Molecular signatures of neuroinflammation induced by alpha-synuclein aggregates in microglial cells. Frontiers in Immunology. 2020. 11:33.
7. Argent L, Winter F, Prickett I, Carrasquero-Ordaz M, Olsen AL, Kramer H, Lancaster E, and Becker EBE. Caspr2 interacts with type 1 inositol 1,4,5-trisphosphate receptor in the developing cerebellum and regulates Purkinje cell morphology. Journal of biological chemistry. 2020. 285(36): 12716-12726.
8. Sarkar S, Murphy MA, Dammer EB, Olsen AL, Bangaraiu S, Fraenkel E, Feany MB. Comparative proteomic analysis highlights metabolic dysfunction in PD. Nature Parkinson's Disease. 2020. 6(1):40.
9. Parkhitko AA, Ramesh D, Wang L, Leshchiner D, Filine E, Binari R, Olsen AL, Asara JM, Cracan V, Rabinowitz JD, Brockmann A, Perrimon N. Downregulation of the tyrosine degradation pathway extends Drosophila lifespan. Elife. 2020. 15;9:e58053.
10. Olsen AL and Feany MB. Glial alpha-synuclein promotes neurodegeneration characterized by a distinct transcriptional program in vivo. Glia. 2019. 67(10):1933-1957.
11. Olsen AL and Feany MB. "PARP in Parkinson's Disease: Clinical Implications of Basic Research." NEJM. 2019. 380(5):492-494.
12. Olsen AL, Riise T, Scherzer CR. Discovering New Benefits from Old Drugs with Big Data – Promise for Parkinson's Disease. JAMA Neurol. 2018. 75(8):917-920.
13. Olsen AL and Herrington TM. "Movement Disorders." Neurology Evidence: Practice Changing Studies. Philadelphia: Wolters Kluwer, 2017.
14. Olsen AL, Miller JJ, Bhattacharyya S, Voinescu PE, Klein JP. Cerebral perfusion abnormalities in stroke-like migraine attacks after radiation therapy (SMART) syndrome. Neurology. 2016. 86(8):787-9.
15. Olsen AL, Lai Y, Scherer SS, Lancaster E. Caspr2 autoantibodies target multiple epitopes. Neurol Neuroimmunol Neuroinflamm. 2015. 2(4):e127.

More publications