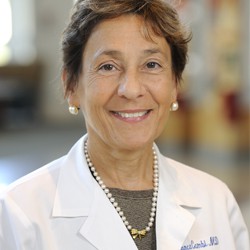 Franca Cambi, MD, PhD
Professor of Neurology
E-mail
Interests
My laboratory has focused on deciphering basic mechanisms of myelin development and disease using cell cultures and mouse models and linking these findings to human disease. Oligodendrocytes and myelin play a critical role in maintaining integrity of axons through glial-axon signaling. Disruption of their function is implicated in many neurological disorders that affect both white and grey matter, such as inherited myelin disorders, Multiple Sclerosis, Alzheimer's disease and Amyotrophic Lateral Sclerosis (ALS).
We are currently investigating the role of GSK3b in oligodendrocyte apoptosis using a novel inducible conditional KO mouse of GSK3b in OL generated in our lab. Studies are underway to characterize the mechanisms by which GSK3 depletion protects against apoptosis and investigate the changes in microglia activation and polarization. These studies are relevant to multiple sclerosis since OL apoptosis is a central mechanism underlying the pathogenesis of MS and neuroinflammation is detrimental to OL survival.
In collaboration with Dr. Haining Zhu at the University of Kentucky, we are investigating whether loss of FUS function causes motor neuron loss in ALS and whether FUS-deficient oligodendrocytes contribute to disease pathogenesis. We will conduct behavioral, pathological and molecular studies in novel cKO generated in our laboratories. These studies are relevant to ALS, FUS mutations are associated with both inherited and sporadic ALS.
Training
| | | | |
| --- | --- | --- | --- |
| MD | Medicine | University of Florence, Italy | 1979 |
| PhD | Neuroscience | University of Rome, Italy | 1989 |
| Residency | Neurology | Thomas Jefferson Medical College | 1992 |
Positions Held
| | | |
| --- | --- | --- |
| Assistant-Associate Professor | Thomas Jefferson Medical College | 1992-2003 |
| Associate-Full Professor | University of Kentucky | 2004-2014 |
| Professor | University of Pittsburgh | 2014 |
Honors and awards
2009 Elected to Fellowship of the Royal College of Physicians, London, UK
2009 Invited to speak at Senior Vice Chancellor's Research Seminar
2009 - present Elected for inclusion in Best Doctors in America 2009, 2010, 2011, 2012, 2013, 2014, 2015, 2016
2010 University of Pittsburgh Honors Convocation
2012 - present Listed by Pittsburgh Magazine as one of 19 Top Doctors in the region 2012, 2013, 2014, 2015
2013 - present Scientific advisory board CurePSP
2014 Medical Student Research Mentoring Merit Award
2014 ZES1 LWJ-K (R) Study section
2015 - present Editorial board, Journal of Biological Chemistry
Selected Publications
Zhu H, Zhao L, Wang E, Dimova N, Liu G, Feng Y and Cambi F. The QKI-PLP pathway controls SIRT2 abundance in CNS myelin. Glia. 2012 Jan;60(1):69-82, September 21, 2011,Epub

Wang E, Cambi F. MicroRNA expression in mouse oligodendrocytes and regulation of proteolipid protein gene expression. J Neurosci Res 90:1701-12, Sept 2012, Epub. 2012 Apr 14

Erming Wang, Vahid Aslanzadeh, Filomena Papa, Haiyan Zhu, Pierre dela Grange, Franca Cambi. Global profiling of alternative splicing events and gene expression regulated by hnRNPH/F. PLOSONE, December 17, 2012

Bankston AN, Li W, Zhang H, Ku L, Liu G, Papa F, Zhao L, Bibb JA, Cambi F, Tiwari- Woodruff SK, Feng Y. P39, the primary activator for cyclin-dependent kinase 5 (cdk5) in oligodendroglia, is essential for oligodendroglia differentiation and myelin repair. J Biol Chem. 2013 Jun 21;288(25):18047-57. doi: 10.1074/jbc.M113.453688. Epub 2013 May 3.

Bachstetter A, Webster S, Van Eldik L, Cambi F. Clinically relevant intronic splicing enhancer mutation in myelin proteolipid protein leads to progressive microglia and astrocyte activation in white and gray matter regions of the brain. J Neuroinflammation. 2013 Dec 5;10:146. doi: 10.1186/1742-2094-10-146

More publications
Lab Members
Bin Xing, PhD

Research Scientist

Dr. Xing's research focuses on the role of GSK3b in apoptosis and neuroinflammation. He has conducted the studies that have uncovered the role of GSK3b in apoptosis of oligodendrocytes and has established oligospheres for molecular studies. He has been the major driving force of this project.