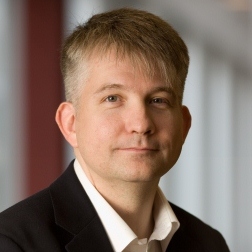 Edward A. Burton, MD, DPhil, FRCP
Associate Professor of Neurology
Associate Professor of Microbiology and Molecular Genetics
UPMC Endowed Chair in Movement Disorders
Website
Interests
(1) α-Synuclein, mitochondria and Parkinson's disease: We recently showed that short hairpin RNA targeting the SNCA gene encoding α-synuclein prevented motor deficits and neurodegeneration in a rat Parkinson's disease model caused by exposure to a mitochondrial inhibitor, rotenone (Zharikov et al 2015). In our current studies, we are investigating the mechanisms underlying this observation and working to determine whether therapies targeting α-synuclein expression can be translated into effective neuroprotective treatments for Parkinson's disease.
(2) Tauopathy: Several neurological disorders, including progressive supranuclear palsy (PSP), Alzheimer's disease (AD), and chronic traumatic encephalopathy, are characterized pathologically by the accumulation of insoluble forms of Tau protein in neurons and glia. Collectively, tauopathies are common and incurable and there is an unmet need for treatments that target pathogenic mechanisms. We are currently developing zebrafish models of tauopathy that replicate key aspects of human disease, and which are optimized for use in drug discovery and development (Bai et al 2007, 2011a, and unpublished).
(3) Tools for high-throughput neurobehavioral phenotyping in zebrafish models: We have developed technology to carry out high-throughput measurement of neurological phenotypes in zebrafish disease models in 96-well plates (Cario et al 2011; Zhou et al 2014). We are currently investigating how this approach can be used for chemical modifier screens for drug discovery applications in disease models. We are also developing new tools to allow automated quantification of other neurological phenotypes.
(4) Dystonia: Primary torsion dystonia, caused by mutation of the DYT1 gene encoding torsinA, is characterized clinically by generalized, involuntary and sustained muscle contractions resulting in abnormal twisting movements and postures. Although the etiology of DYT1 dystonia is well-defined genetically, the pathophysiology is relatively poorly understood. We have characterized the DYT1 orthologue in zebrafish (Sager et al 2012) and are currently constructing zebrafish dystonia models to allow elucidation of the abnormal neuronal biology and circuitry formation underlying dystonia.
(5) Oligodendroglia and axonal regeneration: There has been increasing recognition that oligodendrocytes have important roles in maintenance of axonal viability, in addition to production of the myelin sheath. Using the zebrafish as a vertebrate model in which axons regenerate robustly, we have embarked on studies to identify the molecular pathways by which glia can support axonal growth in the CNS. This work involves novel zebrafish models that express axonal injury-responsive transgenes in oligodendrocytes (Bai et al 2011b, 2014).
Training
| | | | |
| --- | --- | --- | --- |
| BSc (with Honors Class 1) | Physiology | University of Birmingham (UK) | 1988 |
| MB ChB (with Honors) | Medicine and Surgery | University of Birmingham (UK) | 1991 |
| MRCP | Internal Medicine | Royal College of Physicians of London | 1994 |
| DPhil | Molecular Biology | University of Oxford | 2000 |
| MD (with Honors) | Viral Gene Transfer | University of Birmingham (UK) | 2003 |
Positions Held
| | | |
| --- | --- | --- |
| Clinical Lecturer in Neurology | University of Oxford | 2001 - 2004 |
| Assistant Professor of Neurology | University of Pittsburgh | 2004 - 2014 |
| Associate Professor of Neurology | University of Pittsburgh | 2014 - |
Honors and awards
Norman Guthrie Research Training Fellowship, Action Research, UK (1996)
Graduate Scholarship, Green College; University of Oxford, UK (1997)
Vera Down Prize for Muscular Dystrophy Research; British Medical Association, UK (1997)
Elected to Fellowship of the Royal College of Physicians, London, UK (2009)
Senior Vice Chancellor's Research Seminar (2009)
Elected for inclusion in Best Doctors in America (2009 - present)
University of Pittsburgh Honors Convocation (2010)
Pittsburgh Magazine Top Doctors (2012 - present)
Scientific advisory board CurePSP (2013 - present)
Medical Student Research Mentoring Merit Award (2014)
ZES1 LWJ-K (R) Study section (2014)
Editorial board, Journal of Biological Chemistry (2015 - present)
Selected Publications
* denotes senior/corresponding author

Zharikov, A., Cannon, J. R., Tapias, V., Bai, Q., Horowitz, M. P., Shah, V., El Ayadi, A., Hastings, T. G., Greenamyre, J. T., *Burton, E. A. (2015)
shRNA targeting α-synuclein prevents neurodegeneration in a Parkinson's disease model.
Journal of Clinical Investigation. 125(7):2721-2735
http://www.ncbi.nlm.nih.gov/pubmed/26075822
http://www.jci.org/posts/302

Zhou, Y., Cattley, R. T., Cario, C. L., Bai, Q., *Burton, E. A. (2014)
Quantification of larval zebrafish motor function in multi-well plates using open-source MATLAB applications.
Nature Protocols. 9(7):1533-1548
[Featured on the cover of the July 2014 issue of Nature Protocols]
http://www.ncbi.nlm.nih.gov/pubmed/24901738

Bai, Q., Parris, R. S., *Burton, E. A. (2014)
Different Mechanisms Regulate Expression of Zebrafish Myelin P0 in Myelinating Oligodendrocytes and its Induction Following Axonal Injury.
J Biol Chem. 289(35):24114-28.
[Featured on the cover of the August 29, 2014 issue of JBC]
http://www.ncbi.nlm.nih.gov/pubmed/25028515

Sager, J.J., Torres, G.E., *Burton, E. A. (2012)
The zebrafish homologue of the human DYT1 dystonia gene is widely expressed in CNS neurons but non-essential for early motor system development.
PLoS ONE. 7(9):e45175
http://www.ncbi.nlm.nih.gov/pubmed/23028827

Milanese, C., Sager, J. J., Bai, Q., Farrell, T. C., Cannon, J. R., Greenamyre, J. T., *Burton, E. A. (2012)
Hypokinesia and reduced dopamine levels in zebrafish lacking β- and γ1-synucleins.
J Biol Chem. 287(5):2971-83
[Featured on the cover of the January 27, 2012 issue of JBC]
http://www.ncbi.nlm.nih.gov/pubmed/22128150

Bai, Q., and *Burton, E. A. (2011a)
Zebrafish models of Tauopathy.
Biochem Biophys Acta. 1812, 353-63.
http://www.ncbi.nlm.nih.gov/pubmed/20849952

Cario, C. L., Farrell, T. C., Milanese, C. and *Burton, E. A. (2011)
Automated measurement of zebrafish larval movement.
The Journal of Physiology. 589(15), 3703-8.
http://www.ncbi.nlm.nih.gov/pubmed/21646414

Farrell, T. C., Cario, C. L., Milanese, C., Vogt, A., Jeong, J.-H., *Burton, E. A. (2011)
Evaluation of spontaneous propulsive movement as a screening tool to detect rescue of Parkinsonism phenotypes in zebrafish models.
Neurobiology of Disease. 44(1), 9-18.
[Featured on the cover of the October 2011 issue of NBD]
http://www.ncbi.nlm.nih.gov/pubmed/21669287

Bai, Q., Sun, M., Stolz, D. B., *Burton, E. A. (2011b).
The major isoform of zebrafish P0 is a 23.5kDa myelin glycoprotein expressed in selected white matter tracts of the central nervous system.
Journal of Comparative Neurology. 519(8),1580-96
http://www.ncbi.nlm.nih.gov/pubmed/21452240

Bai, Q., Garver, J. A., Hukriede, N. A., *Burton, E. A. (2007)
Generation of a transgenic zebrafish model of Tauopathy using a novel promoter element derived from the zebrafish eno2 gene.
Nucleic Acids Res. 35 (19), 6501-16
http://www.ncbi.nlm.nih.gov/pubmed/17897967

More publications